Well, the day started off with my kind of breakfast. Breakfast is a very important meal and I make sure I don't skip it. This is my favorite meal of the entire day as it includes "eggs". I'm an egg lover. I'm not a fan of omelet though. Scrambled, sunny-side-up and boiled are more of my choice. So the breakfast was full of nutrition and fiber and I was full and ready to go ahead with the day.
Next comes my photo shoot obviously by my favorite photographer, my husband. He did his job very well. I wore a black short tube style jumpsuit which I got from H&M, Select City Mall. Actually, I did most of my shopping from H&M as I was lacking with time and I had to buy so many things at the same time that I preferred to go to a place where I can buy all kind of things. And so, H&M is the place that has a variety of things to offer to a woman or a man. So I opted to not experiment with other brands at the last moment. Literally, it was the last moment. It basically took 3-4 days to pick the best stuff for me, which includes the day when I was supposed to depart. It's like I reached home, packed all my new stuff up, and just left for the airport.
Anyway, the photo shoot happened right outside my hotel. It was a beautiful scenery.

We headed to Nusa Dua as we heard about its main attraction "Water blow" and the sports activities which happen there to a great extent. After reaching Nusa Dua, there is some good walking distance from the entrance and for which they had cycles. I love cycling. This used to be my mandate 1-hour hobby every day in childhood. So there's no way I let the opportunity just slip away! Of course, we took it and went paddling inside. There was no entrance fee though, there was definitely a rental fee for the cycle. It was windy, so, I would say the experience was really "wind"erful. 🙂 I just can't forget that feeling I had when I was there.
Cycling  🙂

Waves crashing against jagged limestone edges on the cliff is what "Water blow" was all about. We couldn't see it going real high though, as we went in December and it serves a good sight from July to October when it surges to 30m high. So, sadly, we missed the breath-taking view of it. 🙁
Water Blow, Nusa Dua (Right behind us)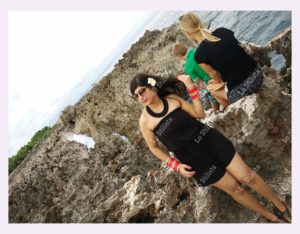 Later, we went to Nusa Dua beach to unwind and further go ahead with some sports activities. It was already late so we were only able to do "parasailing". It was an exhilarating experience, an experience beyond words. That's the second terrifying activity I've ever performed in my life. The first one was "Marriage". HA-HA! 😀 😀 😀
 Nusa Dua Beach

"Us"  🙂

Selfie on the Motorboat

Parasailing
After a whole day of wandering and munching, we were back to our place. We didn't have a proper lunch, so we were damn hungry and went for the dinner. We were craving for Indian food so we hunted for the same in Seminyak itself and we found one. I don't really remember the name of the restaurant but the food was good enough to be savored.
While leaving, there was a huge rainfall. So we couldn't leave for our hotel and we had to wait there for quite some time. Meanwhile, we had some ice creams of which I don't have the pictures as I lost them somehow. Apologies!
It was a mesmerizing experience of having our ice creams outside the parlor, enjoying the rain sight, feeling the chilled breeze, sitting right exactly where I'm standing in the picture below. We were lost in that feeling.
We finally had to buck up as it was already 1 hour of waiting and we started dozing. So, we bought raincoats which came to us from a small vendor passing by, but, we still got drenched on our way back to the hotel. It was the first rain for us in Bali and it was divine. The day ended beautifully. 🙂
Outfit details
Black Short Tube Jumpsuit: H&M
Slippers: Heels, CP
Neckpiece: Ash Amaira, Khan Market
Flower clip: Jimbaran Beach, Bali
Raincoat: BALI 🙂