DIY Old Clothes Into New From Your Wardrobe By Lo Stilista – "The Indian Fashion Blog"
It's been a while I've shared my personal outfit stories with y'all and I'd be no less happy to share some new outfit ideas this time. It is not literally anything new, and I'll tell you why. But the outfit I just opted to show you all is something I'd call a "Phoenix Outfit".
Phoenix(if you're not aware of the term) is actually a mythological bird that ignites itself into a magnificent fire and then reemerges from its own ashes. This mythology has come into existence probably because we all can easily relate to it. Especially, all the learners of life. We all are put into some critical situations we just never thought we would get into and when we come out of them, we are renewed and strengthened and we have more experience and wisdom than before.
Before I get distracted by this fascinating myth that taught me a lot about myself, let's get back to where it started in the first place, my "Phoenix Outfit". The reason why I gave it such a name is becaus this outfit was hanging in my wardrobe in two separate pieces since long still it was never existing for me. And, what struck me was to do something creative with it. I contemplated on it a bit to think about some outfit ideas that can also be helpful to save my money. And hence, these two old outfits, just like Phoenix, reemerged into something I never thought it would. Wonder how that happened? DIY Old Clothes Into New From Your Wardrobe is the key!
Scroll down to have a look at my two of the old outfits! 

⬇



As you see, one outfit is a plain spaghetti strap denim outfit from AND, that I wore in an event 3 years back and the other one is a white tank top with baroque pattern openwork at the back with ripped shorts from H&M, that I wore at my honeymoon, almost 2 years back. I'm a woman and I can't keep repeating my outfits, right? Nor am I born at any celebrity's house! So, here comes the solution to my problem.
DIY Old Clothes Into New From Your Wardrobe – Simple as that!
I mixed both the outfits and gave birth to a new one altogether by wearing my old blue denim dress teaming up with this previously worn white tank top! Isn't that amazing? And on top of that, I made it a completely chilled out attire from a sophisticated one. That's what style is all about, friends! I never wore this outfit ever in my life if I see from the eyes of the people around me, but, if you ask me, girls, this is NOT AT ALL new. I paired it with a statement necklace that was gifted along with the plain golden hoops (I loooooove them, they are so versatile). Keeping my motive in mind which was nothing but to roam in the streets of Bangkok (Oh, I almost forgot to share about that!!!!), I kept it easy by wearing my comfy superstar on my feet and my usual wristwatch to keep my ootd classy.
And hence, that managed to make my day full of fun, style, and comfort. Keep these 3 principles always in mind if you want to look stylish and not wanna lose your comfort. Also, never dump your old clothes, instead, shuffle them up, mix them up or do something with them. Try to look for some new outfit ideas always and you'd never have to give up on something you loved at one point in time.
I'll be sharing my Bangkok travel story with y'all soon, so stay in touch with my blog.
Do share your thoughts about my outfit and let me know through your comments if you also do the same with your outfits to make them more stylish without spending any more money on it or tell me if this kind of outfit ideas never arose to you before.
I've, with my own outfit experience, some more tips and tricks that can help you to save your money and still let you flaunt. If you're eager, read my article How To Be Fashionable On A Low Budget?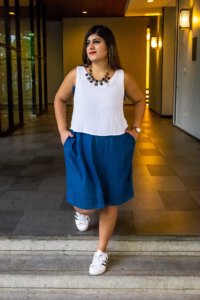 If you liked my outfit, do share your feedback and also, do tell me if you ever DIY Old Clothes Into New From Your Wardrobe!