Big Bun Hairstyle With Thin Hair – By Lo Stilista "The Indian Fashion Blog
A big bun hairstyle is a woman's best friend! And the bigger it is, the better!
Did you ever realize a fact that the half of a girl's life goes keeping a bun on her head? The more stressed we are, the messier it is, and, the more often it is there with us, keeping us undistracted and relaxed. It would have been true for me, had I been aware of the tricks to keep its size big enough. Yes, I was always hesitant to carry a plain bun or the messy big bun hairstyle due to my low hair density or say thin hair. But, that's NOT gonna be a concern for those of you who are facing the same issue as I did. There's always a way out for every damn problem we come across in the world so how could such a petty issue be a trouble for anyone anymore?
With some pictures, I've come up with a trick that solves this problem for you and would help you make a big bun hairstyle with thin hair in seconds of time. Let's just have a look.
Usually, and of course, casually, we just gather our hair into a high ponytail and then with some twist and turns and rolls, we wrap it up using a hair tie or at times using some bobby pins. See the pictures below and tell me if it's not true.
We come up with a bun hairstyle like this after that kind of twist and turns in haste. Isn't it?
BUT, for those who don't have such thick hair, end up with a sad little bun on their head making their faces into an innocent puppy one. Awwww! Not to worry when it's 2018! Googling in this era helps a lot! I wish I also had google but better late than never!
So, to all of you, the trick is right here!
This is just a little-improvised version of the same big bun hairstyle with thin hair especially, that gets done in hurry. I'm not a bun expert personally but this is the trick I came out using my "Jugaadu" mind. 😛  All you have to do is instead of gathering your hair into a high ponytail, get the ponytail simply done by using a hair tie (opt for a medium size one- neither too big nor too small). And then, start the process of twisting and wrapping the hair around itself (just like a cinnamon roll) and tuck the bobby pins as required (I didn't have those in Bali so used tic-tac pins for the tutorial) OR you can also use another medium or big size hair tie to wrap it up completely just like I did. I do both depending on the situation I'm in. If you notice the difference, it's nothing but the size of the bun. The hidden hair-tie elevates the bun a little and helps in its enlargement. Hence, your big bun hairstyle with thin hair especially is ready to be slayed! 🙂
"The Steps"
"The End Product"
With Bobby Pins (Tic-Tac Pins in my case)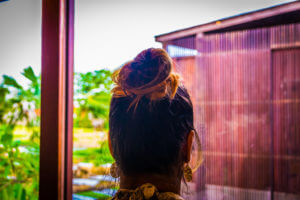 With A Hair Tie
I would come out with a few more ways as soon as I try them out. Share your views in the comment section below to let me know if it worked out well for you. 
Also, check my post for some really cool chic hairstyles that are in and gonna make you rock!