Hello all gorgeous ladies!
This one is dedicated to the times when I want to look ethnic yet classy for the ceremonies at my relatives. I make sure I end up looking the best or at least among all the bests around. And in this one, I, successfully, was able to achieve my goal. 🤘

I'm wearing a gown that was designed by Rajni Sharma Jainee, a designer in Shahpur Jat, Delhi. I got this at the time of my engagement ceremony. It was a lehnga when I first saw it but as I was particularly hunting for a gown, I got it customized to get it turned into a gown eventually. Hence, this gown.  It looked simple yet so powerful to attract anyone's attention. I already chose red for my wedding so I decided to go with a summer shade for my engagement ceremony. And the moment I came across this, I knew which color I want to see this in. It was in a very light peach shade initially and I got it enhanced a little bit to turn it into the one I'm finally wearing.
I accessorized my gown with some elegant pieces of jewelry which I picked up from various local markets. I had to visit places like Rajouri Garden, Kamla Nagar and some more local markets of Delhi to get the best as well as in a nominal range. I can't forget my struggle in the same.
Also, the ring I'm wearing in my left hand is not the one I got from any local market. Because….that's my engagement ring!!!! 😍😍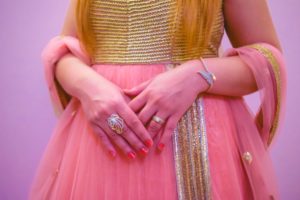 Here comes a tip for you all ➡ 
I know you guys prefer to wear summer shades on the ceremonies and that's the trend as well especially after witnessing Anushka Sharma's wedding, but there's a hidden fact that most of us somehow overlook. Summer shades only go best if you're having your engagement ceremony  or other ceremonies in the daytime. If your ceremonies or any of such events are in the evening, prefer going with some bold shades or some bright shades that'll make your appearance visible. Also, if you do it the other way and wear gaudy dresses in the daytime, you'd again end up looking too much. So, make sure you keep this fact in mind while choosing the best Indian ethnic outfit for you! 👍