Dandiya Dress Ideas For Navratri By "Lo Stilista – The India Fashion & Lifestyle Blog"
Navratri has begun and better late than never, I've come up with some last moment tips that are gonna help you a lot while getting ready for your Navratri occasions and especially for Garba. You don't always have to rely on a single usual Ghagra Choli style and you can dare to think out of the box this time. Relax, dust yourself down and follow these unique ways that are gonna give you a "Hatke" look and yet so easy to be inculcated. These tips are deliberately coming at the last moment from my end because they anyway didn't need much of your time and efforts. As long as you have even one of these things listed below, you should not be worried at all. Just read through all of these dandiya dress ideas and you'll find something right away for your upcoming Navratri event.
Let's begin!
Tip #1
Look for the blackest shades in your wardrobe. If your eyes got opened wide with amazement, then let me tell you, black is gonna do wonder to your Navratri outfit. You don't have to go all black obviously, just add some quirky touch to it and you'll definitely make head turns towards you. Wear a black spaghetti or a tank top, depending upon on your body size, bulky or thin respectively, with any black palazzo or a dhoti style pants and team it up with any of the combinations below.
1. Golden or silver Kamarband and the rest of the jewelry stuff to accessorize your outfit and make it traditional and ethnic in the most stylish way.
2. Add a tinted dupatta to add tint to the black and make it much more happening and ethnic. You can carry it just like a dupatta or you can also add some twist to it.
3. Wear an ethnic or embroidered jacket that'll make it more ethnic and yet will help you have a modern look.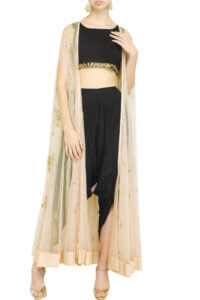 Tip #2
Next, that comes into the picture is the one that's already been indicated in tip #1. Heavily embroidered or embellished dupatta. I'm sure this one is definitely gonna be there in your closet. Just any embroidered or and embellished dupatta will act as one of the best dandiya dress ideas for you at the moment. How? Just bring out either black plain one piece or two pieces outfit, or you can go with something that's really going well with your available dupatta in the closet. It's that easy! You just have to pair something relatable with your dupatta and you're ready to hit your garba dance. Don't forget to add a bindi, and a little bit of jewelry and makeup.
Tip #3
Embroidered Jacket. There are various ethnic and Jaipuri jackets that are available out there if you don't have one already. Honestly, even I'm running out of this one right now, but I'm gonna grab one soon. This is a savior for the last moment. You can use it so many times and at so many occasions, just like you can use at your garba party. Pair it with a combination of tank top or spaghetti and palazzo, straight or dhoti pants. Choose the color and the pattern wisely.
Tip #4
Printed skirt. A printed skirt is a great option if you're going for a Navratri event. It can give you a literal Gujarati feel. Ghagra choli is anyways the perfect attire for the day and a printed skirt can make you achieve that. Wear a suitable top with your printed skirt and tag some jewelry and dupatta with it which is more towards the typical ghagra choli style. If you don't want the ordinary ghagra choli style, you can wear it like a dress and pair it with a jacket to stay on with the modern look, do make sure to add some jewelry to keep it ethnic.
Tip #5
So by now, you must have figured the importance of jewelry in any ethnic attire. So with your Navratri outfit. Even if you don't have any ethnic wear in your closet, you can definitely improvise the available pieces by adding some junk or oxidized jewelry to it. Wear your usual kurta with a palazzo pant or a tank top with dhoti pants, AND add some oxidized jewelry like, earrings, neckpiece and the most important one that's gonna act as a savior is a Kamarband or Metal belt. These accessories are gonna help you give a more ethnic look.
These dandiya dress ideas are certainly gonna save you at the last moment. Just use any of these above-mentioned tips and get rid of all the confusion that you would have gone through otherwise.
Image courtsey: Google